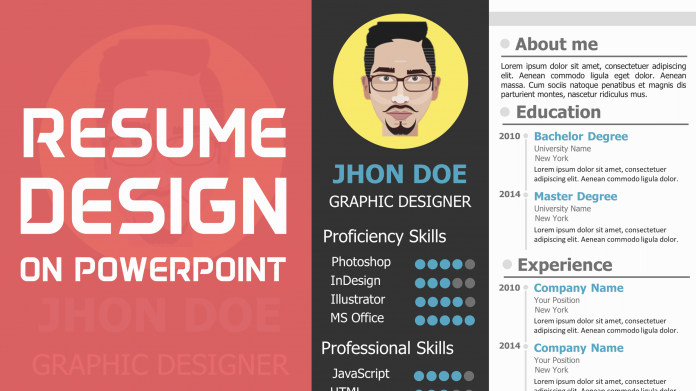 Free Resume Template
A good resume is very important to attract your interviewer. This is the first thing that will represent you in front of others. That is why PowerPoint School has created this clean and professional resume template.
We have created this resume on Microsoft Office PowerPoint. If you are not familiar with PowerPoint, you need not to worry about it at all. Because, this is really very easy and we have prepared everything that you need. Moreover, you will get a tutorial video and also a proper written documentation for this free resume template.
Features of this resume template:
Clean & simple representation

Infographic look

Created on PowerPoint

Easily editable

Font used "Tw Cen MT"
Watch the tutorial:
We have a full step by step tutorial for this particular resume template. So, you may watch it now. It will help you to edit this template as well as you will get to know how we have made this resume in PowerPoint
Download the template file:
To download this resume template, just follow the download button and you will get a ZIP file. Then, extract that ZIP file on your computer and you will get the original PowerPoint file. Now, open it and edit as you want.
How to edit this template:
The editing process is very simple. As PowerPoint is a handy tool, you will find yourself in a comfort zone. If you haven't watched the tutorial video that we have given above, you may read these instructions.
01 Change the picture:
To change the demo picture that we have given in the template file, just select that and press delete from your keyboard. Now, to add your own picture, go to insert menu and click on pictures. After that choose a good picture of yours and then use the crop option, if it is necessary. For this template I have used the crop option. To do so, select your picture that you have inserted, go to format (under picture tool option), click on the drop down arrow from crop option, go to crop to shape and select oval shape. After that again click on that drop down arrow and from aspect ratio select 1:1. Now, holding the Ctrl+shift from your keyboard, you may resize your picture and then place it over the upper left portion.
02 Change the text boxes:
Here, in the template file, you will find all the necessary information has been added through text boxes. You can easily replace the demo text with your own information. We have used the Tw Cen MT font for this resume template. But if you want you can change it easily. Just select the text and under the home menu you will get the font changing option.
03 Change infographic circles:
To measure your skills on a particular subject, we have used some colorful small circles. So, you need to change those according to you need. To do so, just select a non color circle, go to format, click on shape fill and change the color.
04 Save as PNG or print:
After adding all the necessary information, you can save your resume as a JPG, JPEG or PNG format or you may print directly from PowerPoint. If want to save it as an image, I will recommend to save as PNG format for better quality. So, to save as PNG format, go to file menu, click on save as, select the destination folder (where you want to save) and then change the file format from PowerPoint Presentation to PNG (Portable Network Graphics) format. But if you want to print your resume directly from PowerPoint, just press Ctrl+P from your keyboard. For this, make sure a printer is properly connected with computer.
If you have liked our work, make sure you share this template with others and also let us know your thoughts about this free resume template through a comment. Moreover, you may also visit our YouTube channel for more free PowerPoint tutorials and template files.