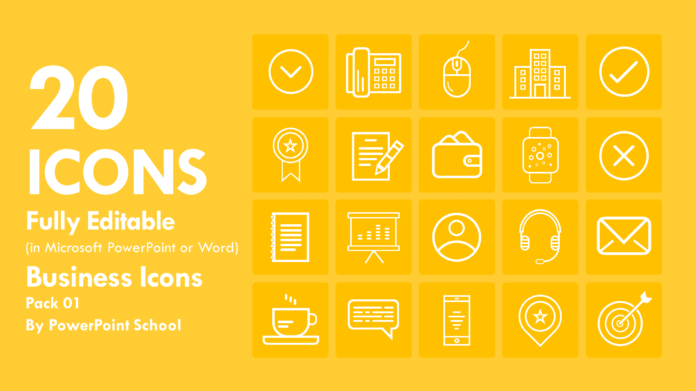 When you are preparing slides for your upcoming presentation, the best way to create interest in your audience is by using minimal and expressive icons. Thoughtfully designed icons from PowerPoint School can help you achieve that long-lasting impression. Here we are presenting you with a free business icons pack that can give your slides a modern look. Here in PowerPoint School, we always put our designs' efficiency and readiness for the users as our highest priority. This icon pack has been the result of such an effort. You can find an impressive number of icons fit right for your presentation.
About this free business icons pack
Regularly used icons for presentations are sorted by our design team and developed into an attractive outlook so that the topmost satisfaction can be achieved. This is a free business icons pack that is ready to use, or you can customize it according to your priority. 
Features of this PowerPoint icons
20 different business icons
Created in PowerPoint 
Fully editable icons
Supports in any MS Office platform
Free to download and use
Watch the template video
This video will give you an idea that how to work with these icons. Moreover, from our YouTube Channel, you can watch more amazing templates and tutorial videos.
Get this free business icons pack
You can download these free business icons right here. A ZIP file of the package will be downloaded. You need to UNZIP the file and open the given PowerPoint Slide to use the icons.
Feel free to check out all other icon packs available from here.
Information about this icons pack
Feature 01: Free to download!
The icon pack is entirely free to download and for use. Along with this pack, there are many other resources and templates available on our website.
Feature 02: Resizable

Copy your icon from the downloaded icon pack and paste it in your slide. Select the icon and resize it by dragging the outer box that appears.
Feature 03: Customization
How to customize?
Simply select the icon and delete or customize the shapes according to your choice. Keep in mind to ungroup the icon if you find it grouped.
Grab this freshly designed modern business icons pack right away and get your presentations a visual boost. Let us take care of the design, whereas you can solely focus on acing the deal through your presentation.
Visit our homepage for more Icon packs and free PowerPoint templates. We recommend you should not miss out on the latest designs.
Frequently asked questions
Are these icons fully editable?
Yes! You can fully edit the icons, as given in the information section above.
Where can we use these icons?
You can use these icons across all MS Office Platforms.
How to change icon colors?
Select an icon and go to the format option at the top bar. There you can change the color from shape fill and outer fill options.
Do you have other free icons pack?
Yes! We are sharing different icons for PowerPoint. So, make to check our free PowerPoint icons page.