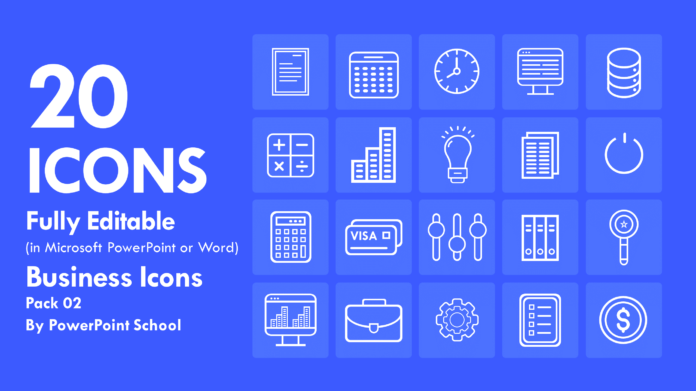 Awesome Icons bring unique experience in presentations. Whether it's a client meeting or any other formal setup, you need nicely curated icons to gain your audience's attention and create a memorable impact. This time from PowerPoint School, we bring you a fantastic business icons pack with the necessary icons to ace your next presentation. These icons are unique and have a detailed expression of the ideas, which will surely make you stand out in front of your audience.
About this business icons pack
Our design team has noticed that some essential icons have a crucial attention span during any presentation. To create a successful impact during that moment, we have thoughtfully designed this business icons pack. Using the icons in this pack in your presentation will instantly improve the slides' quality and express more than the words.
This is a fully editable business icon pack for free that can be used in any version of Microsoft PowerPoint or Microsoft Word. You simply need to copy and paste the icons you want in your desired documents. Besides, you can use any color that suits your presentation and resize the icons.
Features of this PowerPoint icons
20 unique business icons
Designed with PowerPoint shapes
Fully customizable icons
Supports in any version of PowerPoint
Use them in any MS Office Platform
Free to download and use
Watch the template video
Here, you may watch this video to get an overall idea or you can visit to our YouTube Channel for more PowerPoint templates and tutorial videos.
Download this free business icons pack
You can download the business icon pack right here for free. A zip file will be downloaded. You need to unzip the file and open the given PowerPoint Slide to use the icons.
You can also check out all other icon packs available from here.
Information about this icons pack
Feature 01: Re-sizable
How to resize?
Copy your icon from the downloaded icon pack and paste it in your slide. Select the icon and resize it by dragging the outer box that appears.
Feature 02: Color Adjustable
How to select color?
Select your desired icon and find format at the top bar; you will find Shape Fill and Outer Fill to bring your desired color for the icon.
Feature 03: Customization
How to customize?
Simply select the icon and delete or customize the shapes according to your choice. Keep in mind to ungroup the icon if you find it grouped.
Don't settle for a typical presentation any longer. Download and use our Business Icons Pack and stand out in your next big presentation. Let us bring you the attention you deserve through our designs and support you in professional aspirations.
Visit our homepage for more Icon packs and PowerPoint Templates for free. We recommend you should not miss out on the latest designs. 
Frequently asked questions
Are these icons fully customizable?
Yes, the icons are fully customizable. You can find how to resize, recolor, and rearrange the icon in the Information section above.
Do I need any specific version of PowerPoint?
No, you do not need any specific version of PowerPoint.
Are these business icons for free?
This is an entirely free pack to download and use in your presentation.
Do you have more icons pack?
Yes, we indeed do. Here you can check our free business icons pack 01 and check all our free PowerPoint icons.