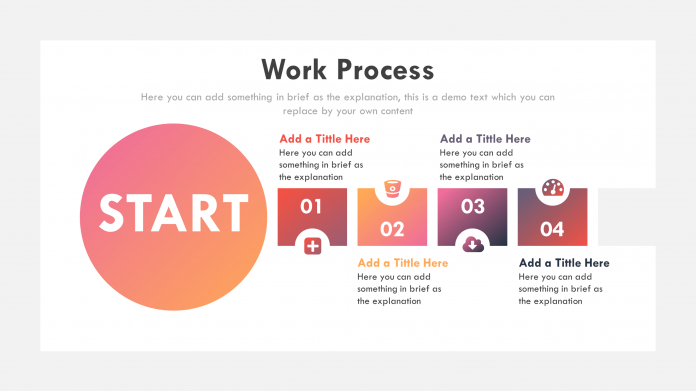 Nowadays, you must update the way of designing your PowerPoint template. Otherwise, it may seem boring and as usual to your audience. So, you must consider making an attractive PowerPoint presentation slide. Here, PowerPoint School can help you with its free templates.
About this PowerPoint presentation slide
As before, we have created another stunning PowerPoint template. It has around 20 different slides and most of the slides have the drag and drop feature. Moreover, the best thing of this template is that it is a multipurpose PowerPoint presentation slide which you can use in any types of presentations.
Features of this PowerPoint template
20 unique presentation slides
Attractive layout designs
Drag and drop feature included
Fully animated presentation slides
Multipurpose PowerPoint template
Watch the tutorial video
We will publish a step by step tutorial video very soon. There you will get to know how to edit this template within just a few minutes.
Download this PowerPoint template
Just click on the download button and you will get the ZIP file which contains the PowerPoint template. Please, remember that there is two different folders. One is the demo file and another is the main template. Though you can use the demo file for your better understanding about this template, make sure that you are using the template one to create your own PowerPoint presentation slide.
Information about this template
After watching the tutorial video, you may consider reading this brief documentation. Here, we will discuss how you can edit the whole template with your own presentation content.
Step 01 Delete unnecessary slides
At first, you need to choose which slides that you are going to use in your presentation. Then, simply delete the unnecessary slides.
Step 02 Add your texts
Our each slide contains few different text boxes with the demo texts. So, you just need to replace the demo texts with your own information.
Step 03 Add a picture or video
Adding pictures and videos are very easy because here we have used the drag and drop feature. So, just click on the image or media placeholder and select the picture or video that you want to add.
RGB color values
Rose: (255, 89, 105)
Teal: (82, 203, 190)
Gold: (254, 198, 48)
Teal: (93, 115, 115)
Lime: (146, 208, 80)
These are the RGB values that we have used in this particular template. If you want, you can use these as well.
We believe that you will find this template very useful for making your PowerPoint presentation slide. As we are working so hard to build these templates and providing for free of any cost, we expect you to be kind enough to share our works with your friends and colleagues.
Frequently asked questions
How to edit this PowerPoint template?
As it is a drag and drop ready template, you hardly need any skills in PowerPoint. Therefore, you just need to choose which slides that you are going to use for your presentation. Then, simply add your own texts and pictures which is very easy to do. If you need any help in editing, you can watch the video that we have provided with this article.
Where can I use this template?
It is a multipurpose PowerPoint presentation slide. So, feel free to use it in any types of presentations. The theme will perfectly match no matter what types of content you have.
Do I need the latest version of PowerPoint?
No! You do not need the latest one. This template will work in any versions of Microsoft Office PowerPoint.