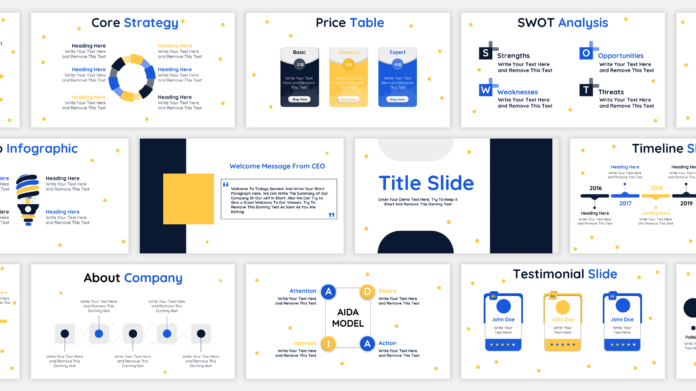 Our today's PowerPoint template can help you in making slides for your next presentation. This is a professional-looking and fully animated business PowerPoint template that may increase the engagement of your presentation.
About this Animated Business PowerPoint template
This is a business PowerPoint template but we have created it in a way so that you can also use most of our slides for other purposes. We have added slides for SWOT analysis, AIDA, PESTLE. ADKAR and also some other necessary infographics.
Features of this template
22 unique presentation slides
Includes both with and without animation files
SWOT, AIDA, PESTLE, ADKAR models are available
Compatible with PowerPoint, Google Slides, Keynote
Can be used for multipurpose presentations
Free or personal & commercial use
Watch the template video
You may watch the template video for a better understanding. Moreover, consider checking our other tutorials and templates in PowerPoint School's YouTube channel.
Get this Business PowerPoint template
Get this business PowerPoint template for free. You may also check our other free PowerPoint templates and free Google Slides themes.
Information about this template
With this particular template, you will get 22 unique slides that are fully compatible with PowerPoint, Google Slides, Keynote. Moreover, all our slides are fully animated, though you will get separate files with animations and without animations. As always our presentation template is fully editable. You can simply change the demo text with our own information and also we have provided some image placeholders that will help you to add pictures. 
If you have liked this PowerPoint template, make sure to watch our other templates. Share this template and let us know your thoughts that will inspire us to create more templates. 
Frequently Asked Questions:
Here, we have tried to answer some of your questions regarding this business PowerPoint template file.
Is it a multipurpose presentation slide?
Yes! Though we are calling it a business presentation slide, you can use most of the slides in any other type of presentation.
Which version of PowerPoint do I need?
We have used PowerPoint 2016 to create this template. But this template will perfectly work with any available version of Microsoft Office PowerPoint.