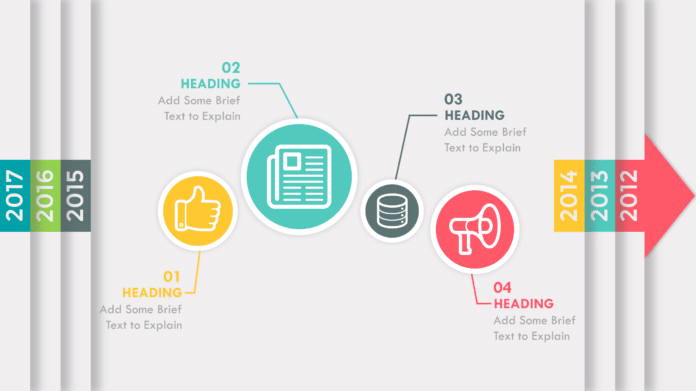 PowerPoint is the best tool for telling your story through a presentation. In PowerPoint School, we always try to create some great PowerPoint templates. Furthermore, we believe presenting your content in a timeline will look organized. That's why we have built this free PowerPoint Timeline template.
About this PowerPoint timeline template
This PowerPoint timeline template is suitable for any type of presentation. You can say it's a multipurpose presentation template. Furthermore, it looks incredible. However, in some cases, you can use this template for only a small or short presentation. We have only 7 slides and the slide number is limited due to the attractive design of this PowerPoint template. If you have a 5 to 10 minutes presentation, this template can be great for you.
Features of this timeline template
Seven unique timeline slides
Attractive color combination
Used morph transition
Included animated resources file
Multipurpose presentation template
Watch the tutorial video
This video will show you how we have created this exact PowerPoint timeline template. If you are interested in using this template for your presentation, make sure you watch the whole video; otherwise, you may face some problem editing the file. Here, we have explained everything steps by step. So, we believe this tutorial video will help you out. If you want to learn more about PowerPoint, you can visit our YouTube channel. There you will find hundreds of PowerPoint tutorials.
Get this PowerPoint template
As always, we are providing this awesome PowerPoint timeline template for free. If you click on the download button, you will get the ZIP file containing the template file and the animated resources file. If you are interested in exploring more free PowerPoint templates, you can visit our PowerPoint templates page. 
Information about this template
With this template file, we have provided some animated resources that you can use in your presentation. Moreover, you will get with morph transition and without morph transition file to use anyone you want. Below we are adding some information that you may need to use this template.
Step 01 Choose your file:
With this template file, we provide two different options: morph transition and another without morph transition. So, first, choose which one you need.
Step 02 Add or remove presentation resources:
With the template file, we have already provided some animated presentation resources. But you may not want to use all of them. In that case, simply select all the animated resources from a particular slide, and press the delete button from your keyboard to remove them. Now in that particular slide, you can create or add your own content. To understand this process more precisely, we will recommend watching our tutorial video.
Step 03 Change the texts:
In our template file, we have used so many text boxes with some demo content. So you can simply replace those texts with your own information.
Step 04 Save your slide:
After you make all these changes, make sure to save your PowerPoint presentation slide by pressing Ctrl+S or using the save as option.
We have another beautiful PowerPoint timeline presentation slide, you can also check that out. Moreover, do not forget to check our most popular animated PowerPoint presentation slide template. That is also a similar kind of template that right now you are watching. Make sure you download that template file because there you will find some more animated resources, which will help you. 
RGB color values
Light Gray: (240, 238, 240)
Rose: (255, 89, 105)
Teal: (82, 201, 189)
Gold: (254, 198, 48)
Dark Teal: (0, 160, 168)
Navy Blue: (93, 115, 115)
Lime: (146, 208, 80)
You may use these RGB values to get the same colors used in this PowerPoint template file.
As we always focus on quality while creating a template, we believe this business PowerPoint presentation template will help you make your slide. You can look at our most popular animated PowerPoint template and our PowerPoint animation library if you want.
Frequently asked questions
Is this a free PowerPoint template?
Yes! We are providing this animated PowerPoint timeline template for free of any cost. We just want your appreciation and support.
Do I need the morph transition for using this template?
No! But we have provided two different options with the template file: morph transition and another one without the morph transition. However, one thing you must keep in mind that it doesn't matter if you have the morph transition in your version of PowerPoint or not; you will be able to use it as we have already added that transition in our PowerPoint slide. If you are using a very old version of PowerPoint, you may not be able to use morph transition. But in most cases, you will be able to use it. 
Which version of PowerPoint do I need to use this template?
This PowerPoint template should work in any version of PowerPoint. But we will recommend using at least PowerPoint 2010 or any higher version. Moreover, you must remember that the morph transition is only available in PowerPoint 2019 and Office 365. But as we have already mentioned, if you are using this timeline template, it doesn't matter that you have the morph transition in your version of PowerPoint or not.
Do you have some other free PowerPoint templates?
Yes! We have. Just explore every single page of PowerPoint School, and you will be amazed by our free PowerPoint templates.