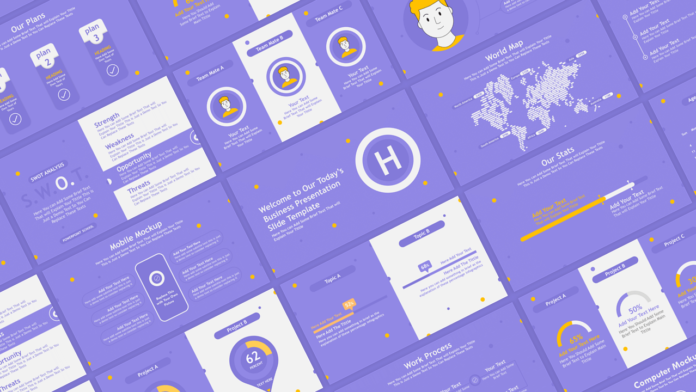 Now and then, people might prepare a presentation for various purposes to share their thoughts or report any findings or performance. PowerPoint templates are the best and most acceptable way to present anything to the audience. Our free PowerPoint slide template will surely help you with your presentation and make it more attractive to your listeners.
About this free PowerPoint Slide Template
This free PowerPoint slide template has all the premium features. It is a multipurpose presentation slide. Here, you will get 25+ unique slides which are fully animated. Moreover, this template is easily customizable.
Features of this PowerPoint slide template
A fully customizable template file
Includes 25+ unique presentation slides
You will get both with and without animation file
Unique color combination
Multiple infographic slides are icluded
Multipurpose presentation template
Compatible with any Microsoft Office PowerPoint versions
Free for both personal and commercial use
Watch the template video
We have created this template in a way so that you may feel much comfortable during the editing process. Still, if you face any difficulties, please watch the below video where we have given brief instructions. You may check our other tutorial videos in PowerPoint School's YouTube Channel.
Get this free PowerPoint slide template
You are getting this stunning PowerPoint Slide template for free. Just click on the download button and you will get the ZIP file which contains both with and without animation files. Check our other free PowerPoint templates and free Google Slides themes.
We have created this template with the periwinkle color which looks very good. If you want you can use it with any other color. Below, we are providing all the RGB color codes that we have used in this template.
RGB color values
White: (242, 242, 242)
Light Blue: (145, 136, 229)
Periwinkle: (131, 122, 217)
Gold: (255, 192, 0)
Frequently asked questions
Is this a free PowerPoint slide template?
Yes! We are providing this beautiful PowerPoint template for free. We just expect your kind piece of appreciation and support.
Which version of PowerPoint do I need?
This PowerPoint template is compatible with any version of Microsoft Office PowerPoint.
Does this template has animations?
Yes, this PowerPoint template is fully animated. Moreover, we have tried to use only the professional-looking animations so that you can use it in any formal presentations. However, you will receive both with and without animation files. So, have the options to select.
In PowerPoint School, we always provide quality templates for free of any cost. It would be great if you appreciate our work through sharing our contents with others. You may also check our other free PowerPoint templates from here.