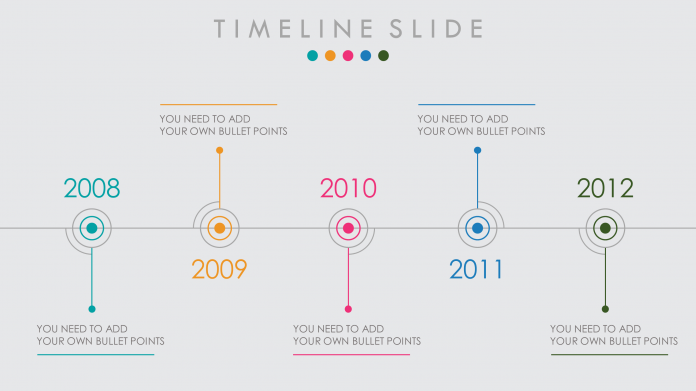 PowerPoint timeline template can be the most suitable way to represent a step by step process or any historical data series. It will help you to organize your presentation contents in an attractive way so that you may grab the attention of your audience.
About this PowerPoint timeline template
As it is fully animated, you can use this template as a presentation slide or you can make an animated video from it. Though we have added two different PowerPoint slides, you can add more by simply duplicating the current one.
Features of this PowerPoint timeline template
Fully animated template
Step by step appearance
Easily editable text boxes
Two different slides
Used one slide transition
Watch the tutorial video
To understand how we have created this exact PowerPoint timeline template, you must have to watch a video. So, here we are providing a step by step proper guided PowerPoint tutorial. Moreover, you can check our other PowerPoint tutorial videos on our YouTube Channel as well.
Download this PowerPoint template
As always we are providing this template for free of any cost. You just need to click on the download button and you will get the zip file.
Information about this PowerPoint timeline template
We have already covered the whole process through a tutorial video. But here with this article, we are pointing out some key factors for your better understanding.
Creating the necessary objects
We have organised this timeline template with few shapes such as line, oval, arc etc. Here, in each step you will get to see a text block where we have used Tw Cen MT font. These text boxes are easily editable. You can simply replace the demo text with your own content.
Adding the animations
You can see we have used some PowerPoint animations to represent our timeline template in an attractive way. So, let's see where we have used what types of animations.
Step 01 Wipe animation
To separate each block and to point out the the text box, we have used small line shapes. So, here we have added wipe animation as well as we have changed the animation direction from the effect option. Another thing, make sure you also set the proper animation timing.
Step 02 Zoom animations
The second type of animation that we have used is zoom. In this template, we have used this particular animation in rest of the shapes such as oval and arc. To have a better understanding, we will suggest to watch the tutorial video.
Step 03 Float in animations
The last type of animation for this timeline template is float in. We have used this animation for the entrance of the text boxes. However, make sure to change the animation direction also.
RGB color values
Light gray: (230, 231, 233)
Dark Teal: (3 161 164)
Orange: (238, 149, 36)
Pink: (239, 48, 120)
Blue: (28, 124, 187)
Dark Green: (56, 87, 35)
These are the color values that we have used in this template. Though you will get all the colors with the template file, here I am providing the RGB values also. If you want, you can use these.
We have already got so many appreciations for this PowerPoint timeline template in our YouTube channel. Therefore, we are also expecting that this brief documentation will help you more. If you don't have much time to create this template by your own, you can always use our free download option. You may explore our collection of animated PowerPoint templates from our website.
Frequently asked questions
How to edit this PowerPoint template?
The best part of this PowerPoint timeline template is that you can easily edit its content. Here, we have used simple text boxes where you can replace the text by your own.
Where can I use this template?
Actually it is a multipurpose template. As it shows a timeline, you can use it for step by step or historical data presentation.
Do I need the latest version of PowerPoint?
No! You do not need the latest version. Though we have used Microsoft PowerPoint 2016, you can use this template in all the versions of PowerPoint.
Can I get a complete PowerPoint presentation template?
Yes! Actually this template is a part of one of our complete PowerPoint template packs. So, you may check the full template also.