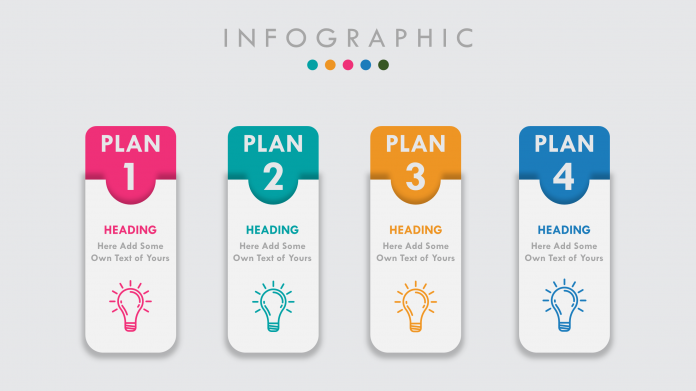 Infographic PowerPoint Presentation Template
Infographics are the best way to deliver your content through a PowerPoint presentation. It can easily grab the attention of your audience through visualization but make sure you are using the proper template according to your presentation content or topic.
About this PowerPoint presentation slide
This PowerPoint presentation template contains a single infographic slide with attractive animations. If you have to explain any step by step process, this template will be your first priority. Moreover, we have added the font "Tw Cen MT" which looks great in a PowerPoint slide.
Features of this template
Single presentation slide

Attractive color combination

Includes proper animations

Infographic outlook
Watch the tutorial video
If you want, you may watch the tutorial video which will guide you to create or edit this exact PowerPoint template.
Get this PowerPoint template
As always we are providing our PowerPoint presentation template for free of any cost. Just click on the download button and you will get the ZIP file.
Information about this template
Here, we have a proper written documentation where we have discussed the step by step process in brief. At first, you need to create the infographic and then you can add the proper animations on them. Please, remember that for this PowerPoint template, I have used the light gray color in the slide background.
Step 01

Add few shapes
At first, you have to add a top corners rounded rectangle and then rotate vertically. After that pick a oval shape, holding the ctrl+shift drag it in the top middle of the previously added rectangle. Then, holding the ctrl button select these two shape, go to format and from merge shape select subtract.
Step 02

Setting custom shadow
Before using the shadow on the shape, make sure you have changed its color and removed the outline. Then, to add the shadow, open the format shape option, go to effect and from there you need to make some changes. Those are:
Shadow color: Black

Transparency: 77%

Size: 107%

Blur: 10 pt

Angle: 0 degree

Distance: 0 pt
Step 03

Add few more objects
After adding the shadow, again add a rounded corner rectangle and place it behind the previous shape. Then, add few necessary text boxes and the icons with their respective color. You can download free icons from flaticon.com's website.
Step 04

Add the animations
For the rounded corner rectangles we have added the float in animation and for the other objects we have added the zoom animation. Please, watch the tutorial video to have a clear idea regarding the whole process.
RGB color values
Light gray: (230, 231, 233)  

Dark Teal: (3 161 164)

Orange: (238, 149, 36)

Pink: (239, 48, 120)

Blue: (28, 124, 187)

Dark Green: (56, 87, 35)
This infographic PowerPoint slide can be used for any sort of presentation but specially to explain any steps or process, it will suit the best. As we are providing this PowerPoint presentation slide for free, we may expect your kind piece of support for our work. If you want, you may check our other free PowerPoint templates as well.