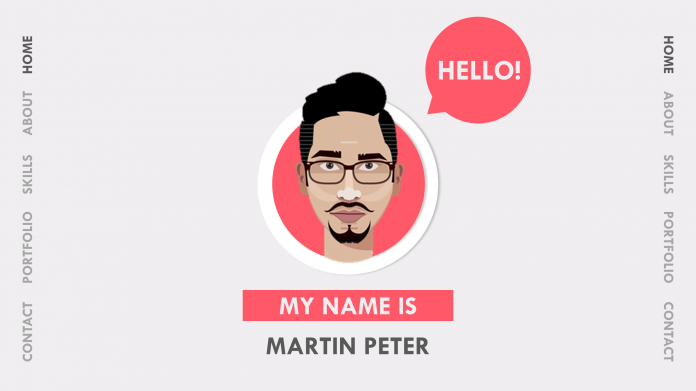 Free Animated PowerPoint Resume Template
PowerPoint can be very effective, if you know how to use it properly. As a student or employee, sometimes you may require to make small video projects. But without having very good knowledge of professional software like Adobe after effects, you may find yourself in trouble. That is why PowerPoint School is trying to make animated PowerPoint templates using creative PowerPoint animations.
About this animated PowerPoint resume template
This animated PowerPoint template will work as a motion graphics portfolio or resume video. Here, we have included five different PowerPoint slides and each slide contains different types of PowerPoint animations. With this article, you will get the free PowerPoint template file, a step by step tutorial video and well explained written documentation.
Features of this template
Includes 5 unique PowerPoint slides

Highly customized animations

Three different color combinations

Needs PowerPoint 2016 or 2013
Watch the template file
You may play this video to watch the whole template file. Here, you will get to see three different color combinations (yellow, red and blue) of this template.
Download the template file
We are providing this animated PowerPoint resume template for free of any cost. After downloading the template file, you will get the ZIP file. So, just extract that one and you will get the folder containing three different PowerPoint templates.
Watch the tutorial video
If you want to know how to make or edit this template, you may watch the tutorial video of this animated PowerPoint resume. And for more PowerPoint templates and tutorial, you can visit our YouTube channel (PowerPoint School).
Information about this animated PowerPoint template
Here, we are providing few necessary information about this free animated PowerPoint resume template. This may help you to get a clear idea.
Slide 01

Home
In this slide, you will get to see a image holder and few text boxes. To replace the current image by your own, right click on the demo image, take your mouse pointer on change picture option and click on from a file. Now, you have to choose your own image from your computer and hit the insert button. After changing the picture, you can change the name also.
Slide 02

About
In this slide, we have added few rectangles with the text boxes to represent what you do actually. So, changing the text is very simple. And if you want to add or delete any rectangle, you can also do it but remember you need to group the new rectangle with the previous one.
Slide 03

Technical Skills
Here, we have added few skills name with the infographic percentage measurement so that the viewer easily get to know what are the skills you have and how much efficient you are on that particular skills. If you want to change any skills, you can simply do that on the demo file by changing the text.
Slide 04

Portfolio
This slide contains few project names that you have recently done. Here, we have added some oval shapes and text boxes so that you can easily add or change with your own.
Slide 05

Contact Me

At the end, you will get to see an animated contact me slide where you can add your own contact details. There we have also provided the necessary text boxes.
RGB color values
Red: (255, 89, 105)
Blue: (151, 180, 231)
Yellow: (255, 192, 0)
As we have used our own customized colors for this template, these RGB values may help you to get the exact same result.
We know creating animated video is so time consuming and complex. So, we hope this animated PowerPoint resume template will make your work much easier than before. If you face any problem, let us know through your much valuable comment.